Norw. Forest Cat Cats & Kittens
This page contains breeders with Norw. Forest Cat Kittens for sale.
Breed description:
Find Kittens by breed and location
Pin it on Pinterest:
Pin my images now!>
---

View my kittens
Minns min gamla katt som gick bort för några år sedan, så fin och snäll den var. En riktigt fin Norsk Skogskatt som på eget bevåg bosatte sig hos oss en sommar. Mager och lite blåslagen* fann den sig hemma hos oss. Var där innan vi gav iväg oss på semeste
gratis support, forum, support, problem, tips, datorer, hårdvara, mjukvara, säkerhet, surftips, datorproblem, frågor och svar, ASP, hjälp, program, HTML, skrivare, grafikkort, programmering, PHP, bildskärmar, databaser, datorkrig, Dr data, flash, hårddisk

---

View my kittens
The magazine of the best about cats. Useful information on feline care, health, development and environments. Breed profiles, stories about special cats, working cats, artistic cats and other unusual felines
cats, kittens, Norwegian Forest Cat, Norway, Wegie, large cats, cat magazine, cat training, cat grooming, cat health care, artistic cats, working cats, feline

---

View my kittens
Information about Norwegian Forest cats, Norwegian Forest kittens for sale, visit Norwegian Forest breeders websites, photos of Norwegian Forest cats, Norwegian Forest kittens and more. Excellent resource for all kitten and cat lovers.
Norwegian Forest Cats, Norwegian Forest kittens, Norwegian Forest Kittens, Norwegian Forest breeders, Norwegian Forest, Norwegian Forest kittens for sale, Norwegian Forest cat, Norwegian Forest kittens for sale, Norwegian Forest breeder, Norwegian Forest

---

View my kittens
We are breeders of Norwegian Forest Cats in London, UK. All our kittens are raised in our home as part of the family and are registered, vaccinated, checked by our vet at least twice before gong to their new homes, weaned and litter trained. Kittens due at the end of May.
London, UK
[ Breeder Location ( Great-Britain-&-Northern-Ireland)
---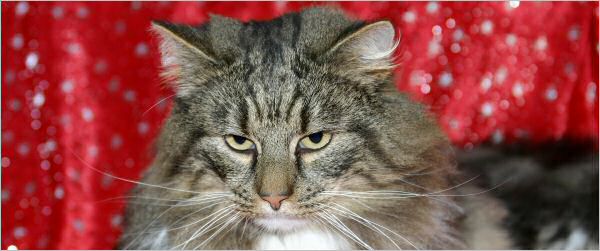 One of the first NFC catteries in Australia. Imports from UK, Denmark and Norway to improve lines. Top show-winning cats of good pedigrees, producing kittens of excellent type, health and purrsonality. Pets available (desexed) most of year, entire breeding stock to registered and experienced breeders. International shipping arranged.
Cranbourne, Victoria, Australia +61 3 59985505
[
Breeder Location
( Australia)
---

View my kittens
we are a small cattery located in germany in the area around Frankfurt/M. Since 1992 we are breeding Norwegian Forest Cats and Maine Coon under the name 'Lochnargar's, who is registrate in FIFe. For more informations feel free to visit our homepage or contact us by e-mail.

[ Breeder Location ( Germany)
---

View my kittens
Since 1992/93 we are breeding Norwegian Forest Cats under the name 'von Aminius'. Health, temper, bonestructure and coatquality are very important for us. We orientate us at the FIFe-standard. Our cats are from swed./norw./dan. and german lines. The colours are not so important for us - we could get kittens in different colours, only totaly white we haven't. Only 1-2 times in the year we have kitten, so we have enough time for them to play, to cuddle...... - they are all familymembers -. For more information you could contact us.

[ Breeder Location ( Germany)
---

View my kittens
We are breeders of norwegian forestcats in Germany. Our cats lives in our home and we have 1-2 times/year kittens available. If you want to see or read more of us visit our hp. If you like you can leave a pawprint in our guestbook.
Am M?hlenberge 10, 38300 Wolfenb?ttel, Tel.: 05331/68285 Mobil 0175/1418022
[ Breeder Location ( Germany)
---

View my kittens
Italian breeders of Norwegian Forest cats in Rome. Important Scandinavian bloodlines, perfect standard aderence, various colours and pattern. We work in order to obtain kittens with an optimal health and an affectionate character. Come to meet us!!!
via Montefiascone 39 Roma
[ Breeder Location ( Italy)
Page:1